Zoe's Kitchen Would Love to Forget 2016 Ever Happened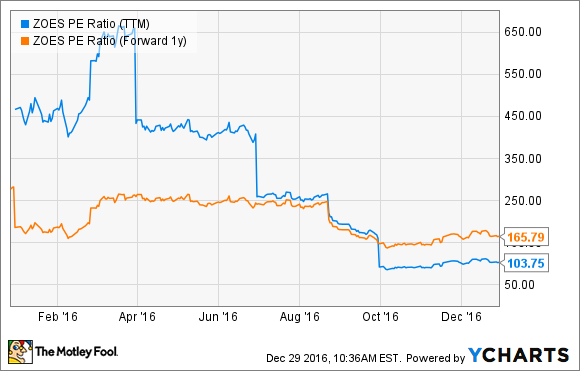 Image source: Zoe's Kitchen.
2016 turned out to be a pretty decent 12 months for stocks, with the S&P 500 up around 10% for the year. But for Mediterranean restaurant chain Zoe's Kitchen (NYSE: ZOES), 2016 was a year to forget, with the stock falling 50% from its high of about $40 in April to $20 and change in October — an all-time low. Though it has recovered a bit since then, the stock is down around 13% year to date.
Let's take a look back at the year that gave Zoe's investors a lot of indigestion, and consider a couple of reasons to be hopeful heading into 2017.
ZOES data by YCharts
A tale of four quarters, or how not to play the expectations game
This year started well enough for Zoe's. In February, the company issued a strong earnings report and its initial guidance for 2016: revenue of $275 million to $280 million, and comparable-restaurant sales growth of 4% to 5.5%.
Just a few months later, in June, Zoe's reported another stellar quarter that included 8.1% comps growth. Bolstered by these results, the company was feeling confident enough to raise its 2016 guidance, with new targets of $277 million to $281 million in revenue and comps growth of $4.5% to 6%.
In August, Zoe's reported earnings that included 4% comps growth — which would be considered solid results for most restaurants, but represented a steep decline from the previous quarter. To make matters worse, the company reduced the guidance it raised less than three months earlier, with revised full-year 2016 targets of $277 million to $280 million in revenue, and comps growth of 4% to 5%. Investors headed for the exits, with the stock falling more than 20% the next day.
Zoe's certainly isn't the first company to get overconfident and raise guidance, only to fall short and have to reduce it. However, few companies suffer the ignominy of a second consecutive quarter of reduced guidance — which is exactly what happened in Zoe's third-quarter earnings report in November. With comparable-restaurant sales growth of just 2.4%, things were clearly slowing down for Zoe's. Management again lowered full-year 2016 guidance, with revised targets of $276 million to $277 million in revenue and comps growth of 4% to 4.5%.
Priced for perfection, without the performance to match
ZOES PE Ratio (TTM) data by YCharts.
Zoe's is still in an awkward transition period from negative to positive earnings growth — just beginning to enter into what should be a period of sustained company-level profitability. On a price/earnings basis, this means the stock appears insanely expensive. Its trailing-12-month P/E ratio, even after the shellacking the stock took this year, is still over 100. And its forward P/E looks even richer, at 165 or so. With a valuation like that, even a minor lowering of expectations is enough to cause shares to tumble. And with two consecutive quarters of reduced guidance, it's easy to see why investors took Zoe's to the woodshed this year.
It's ironic that the company's guidance for revenue and comps growth heading into the final quarter of the year falls completely within Zoe's original forecasts for 2016. Managing investor expectations is a tough job, but Zoe's found out the hard way that it's always better to underpromise and overdeliver.
Why 2017 and beyond should be better
Zoe's is still growing quickly, with revenue growth of 19% or more each of the past four quarters. At the store level, it's nicely profitable, with a full-year 2016 forecast for restaurant contribution margin of around 20%. And it has a pretty incredible streak of 27 consecutive quarters of comparable-sales growth that few restaurant chains can match. In short, I think investor reaction to Zoe's performance in 2016 was overblown.
I also believe Zoe's should fare better going forward for two reasons. First, Zoe's sales are holding up better than the broader restaurant industry during this so-called "restaurant recession." The company's reported 2.4% comps increase in the third quarter of 2016 looks better with a little context. According to Black Box Intelligence, the restaurant industry on average saw far worse comparable-sales declines of 1% for the third quarter. And the southwest region, including Texas (where Zoe's has around a quarter of its locations), posted comps declines of 2.9% — the worst in the U.S. In a world of negative comps growth, Zoe's positive numbers show the resilience of its restaurant concept.
Secondly, over the past three years, the company has doubled its store count to more than 200 locations, and plans to double the store count again by the end of 2020. A rapidly increasing store base should result in significant growth in earnings per share, ultimately pulling the company's P/E into a much more reasonable range, and attracting investors back into this early innings growth story.
10 stocks we like better than Zoe's Kitchen When investing geniuses David and Tom Gardner have a stock tip, it can pay to listen. After all, the newsletter they have run for over a decade, Motley Fool Stock Advisor, has tripled the market.*
David and Tom just revealed what they believe are the 10 best stocks for investors to buy right now… and Zoe's Kitchen wasn't one of them! That's right — they think these 10 stocks are even better buys.
Click here to learn about these picks!
*Stock Advisor returns as of Nov. 7, 2016
Andy Gould owns shares of Zoe's Kitchen. Andy Gould has the following options: short January 2018 $30 puts on Zoe's Kitchen and long January 2018 $30 calls on Zoe's Kitchen. The Motley Fool owns shares of and recommends Zoe's Kitchen.
Try any of our Foolish newsletter services free for 30 days. We Fools may not all hold the same opinions, but we all believe that considering a diverse range of insights makes us better investors. The Motley Fool has a disclosure policy.
View more information: https://www.foxbusiness.com/markets/zoes-kitchen-would-love-to-forget-2016-ever-happened
See more articles in category:
Finance