Will International Business Machines Corp. Raise Its Dividend in 2017?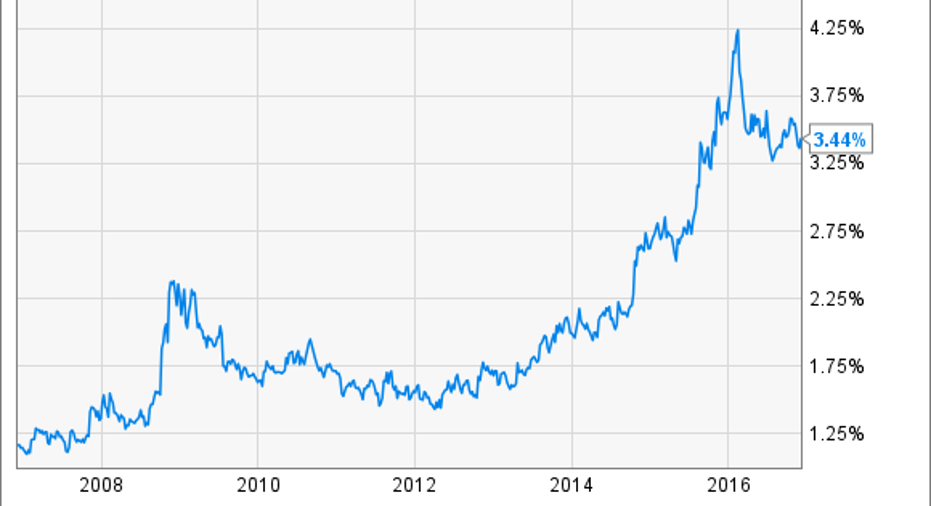 Image source: IBM.
IT giant International Business Machines (NYSE: IBM) has paid investors uninterrupted quarterly dividends since 1916, and it has increased that dividend for 21 years in a row. The latest dividend hike, which was in April of this year, boosted the quarterly payment to $1.40 per share. That's an 8% increase compared to the prior payment.
IBM has ramped up its dividend over the past decade, turning what was once a lackluster dividend stock into one of the best in the technology sector. The quarterly dividend has grown from just $0.30 per share in 2006, a nearly fivefold increase that, combined with a slumping stock price over the past few years, has pushed IBM's dividend yield up to around 3.5%.
IBM Dividend Yield (TTM) data by YCharts.
With IBM's dividend already more generous than many of its big tech peers, is another dividend increase coming next year? Almost certainly.
Plenty of cash to go around
Despite IBM's ongoing transformation, which has knocked down revenue and profit over the past few years, the company remains a cash flow machine. IBM expects to produce about $12 billion of free cash flow this year, the bulk of which will be returned to shareholders.
The current $1.40-per-share quarterly dividend costs IBM about $5.35 billion each year, or 44.6% of the company's expected free cash flow. It's important to note that this free cash flow number is depressed; when and if IBM returns to growth, free cash flow should start to recover as well.
IBM has also been spending heavily on acquisitions. Through the first nine months of this year, IBM has spent $5.4 billion on acquisitions, more than six times as much as it spent during the same period last year. IBM has been building out its cloud capabilities with some of these purchases, adding companies like Ustream and Sanovi Technologies. Others represent big bets on specific areas. Truven Health Analytics and Promontory Financial Group further IBM's plan to push Watson, its cognitive computing system, into various industries with long-term growth potential.
Share repurchases also eat up billions of dollars, but IBM has slowed the pace of buybacks in recent years. The company spent more than $10 billion on buybacks annually from 2011 through 2014, but it has since shifted its priorities. Reducing its share count by 2% to 3% each year is the new plan, representing between $3 billion and $4.5 billion of spending annually.
I suspect that IBM's pace of acquisitions will slow down a bit in 2017, given how much the company has spent this year. And share buybacks can be shifted up and down at will. CFO Martin Schroeter had this to say during IBM's latest earnings conference call:"We will absolutely continue to grow the dividend, and then to the extent that we have excess capital to return, we will return it. And over the long term, that number from a share repurchase would be a 2% to 3% reduction."
Growing the dividend comes first, which should be music to dividend investors' ears.
When to expect a dividend raise
IBM has been consistent with its annual dividend increases, keeping the same schedule for the past 15 years, even throughout the financial crisis. If that schedule holds, an announcement will come in late April or early May, with a record date around May 10 and a payable date around June 10. Investors will receive two more dividend payments before any increase, assuming nothing unexpected happens. The first will be paid on Dec. 10, and the second will be paid around March 10.
The size of next year's dividend increase is an open question. Given the fact that IBM's profits are still in decline, a double-digit increase may be too much to ask for. A mid- to high-single-digit increase seems like the most likely scenario; a new quarterly payment of $1.50 per share would be a nice even number.
IBM will almost certainly raise its dividend next year, rewarding shareholders for sticking around as it works to transform itself into a cloud- and cognitive-computing powerhouse. The increase may be smaller than in in the past, but with a dividend yield already greater than that of many other large technology companies, investors should have little reason to complain.
10 stocks we like better than IBM When investing geniuses David and Tom Gardner have a stock tip, it can pay to listen. After all, the newsletter they have run for over a decade, Motley Fool Stock Advisor, has tripled the market.*
David and Tom just revealed what they believe are the 10 best stocks for investors to buy right now… and IBM wasn't one of them! That's right — they think these 10 stocks are even better buys.
Click here to learn about these picks!
*Stock Advisor returns as of Nov. 7, 2016
Timothy Green owns shares of IBM. The Motley Fool has no position in any of the stocks mentioned. Try any of our Foolish newsletter services free for 30 days. We Fools may not all hold the same opinions, but we all believe that considering a diverse range of insights makes us better investors. The Motley Fool has a disclosure policy.

View more information: https://www.foxbusiness.com/markets/will-international-business-machines-corp-raise-its-dividend-in-2017
See more articles in category:
Finance