Shares of Talen Energy Corp. Surge on Private Buyout Offer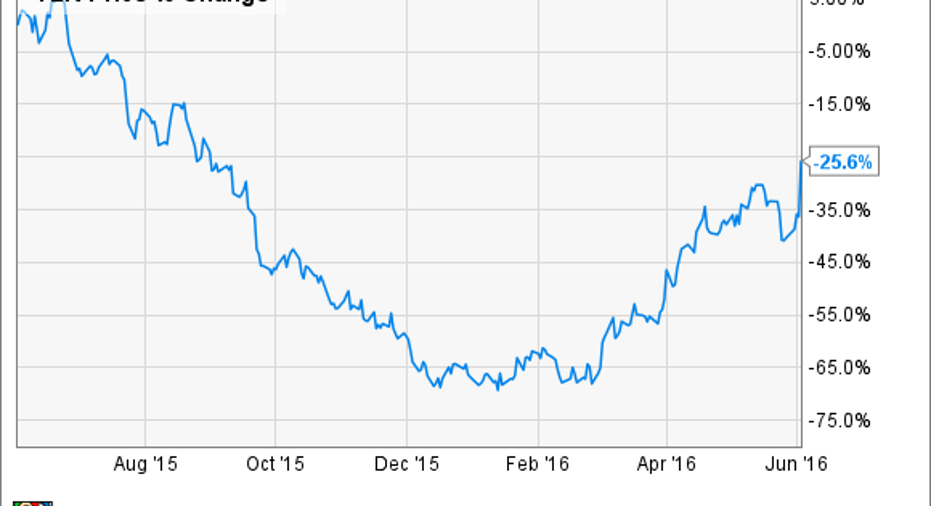 What: hares of Talen Energy Corp. are up 16.8% as of 11:00 a.m. EDT Friday following the news that the company has received a buyout offer from private energy investment firmRiverstone Holdings.
So What: As you would expect with any other buyout offer, shares of Talen have spiked just about to the buyout price that was announced Friday. Riverstone has offered to buy the remaining 65% stake it does not already own for a price of $1.8 billion.
The deal itself wasn't a huge secret, though. On March 31, the company did submit public records that said the company was looking at potential offers to buy out the company at the same time it had completed the sale of its two hydroelectric power stations to Brookfield Renewable Energy Partners. Since the announcement that the company may be sold, shares have climbed 87%.
TLN data by YCharts
Now What: If you are an investor in Talen, then you should probably be relieved that the experiment as its own company is over. Despite that large surge in share price since March 31, shares of the company are still down from its IPO price just a few days more than a year ago. Talen has a fleet of power generating assets that have a large concentration in coal and a nuclear plant that is more than 30 years old. These two methods of power generation have fallen out of favor in recent years and Wall Street has not reacted too kindly to the company's stock.
TLN data by YCharts
Going forward, the only way that there would be more upside to this stock now is if the company were to receive a better offer than the one on the table. Talen Energy has 40 days to find a better offer before the Rivertsone deal is sealed. Any investment in the stock today is basically a bet that the company will receive a better offer, which is purely speculative at this point. For now, it's probably best to just ignore Friday's price spike.
The article Shares of Talen Energy Corp. Surge on Private Buyout Offer originally appeared on Fool.com.
Tyler Crowe has no position in any stocks mentioned.You can follow him at Fool.comor on Twitter@TylerCroweFool. The Motley Fool has no position in any of the stocks mentioned. Try any of our Foolish newsletter services free for 30 days. We Fools may not all hold the same opinions, but we all believe that considering a diverse range of insights makes us better investors. The Motley Fool has a disclosure policy.
Copyright 1995 – 2016 The Motley Fool, LLC. All rights reserved. The Motley Fool has a disclosure policy.



View more information: https://www.foxbusiness.com/markets/shares-of-talen-energy-corp-surge-on-private-buyout-offer
See more articles in category:
Finance