No IPO Pop for SkinnyPop as CEO Looks to Chips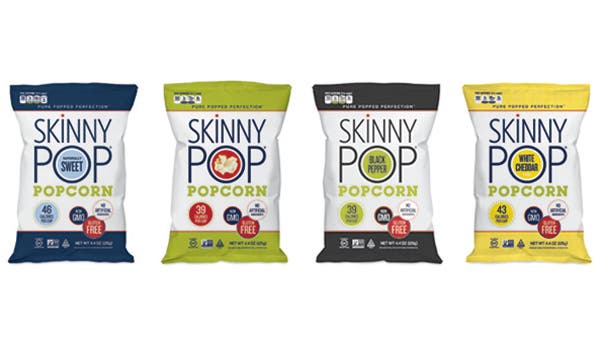 Amplify Snack Brands (NYSE:BETR), the makers of the hit popcorn SkinnyPop, failed to deliver on their first day of trading at NYSE.
The Austin-based company's initial public offering raised $270 million, after its shares were sold at $18 each, above the expected price range of $14-$16 per share, which usually indicates strong demand.
"I think investors believe in what we're doing," Amplify's CEO Thomas Ennis told FOXBusiness.com.
SkinnyPop popcorn makes up the majority of the company's revenue with sales more than doubling last year to $132.4 million, from $55.7 million in 2013, which was a concern among investors.
"We did partner with another brand this year called Paqui Tortilla Chips, which is a wonderful brand. It's a small brand. They all kind of start out small at one point, but we are putting that into our distribution system. So pretty quickly, you will see that we're more than just SkinnyPop," says Ennis.
Both products are all free of genetically modified organisms (GMOs) which Ennis says is a priority for their brand.
"When we think about "better-for-you" snacks, it's all about simplicity, few ingredients, and transparency and that is where non-gmo comes in," adds Ennis, who says that's the main reason behind the symbol "BETR."
However, it's not only healthy snacks that are growing but popcorn in general, according to the company. The overall U.S. popcorn sub-segment, which includes microwave popcorn and ready-to-eat popcorn grew 8.1% from last year.
"Many of our consumers tell us, that they could eat the whole bag. And they feel good after they eat it, too."
Ennis says the majority of the money raised from the IPO will go back into the company's marketing efforts.
"We're thinking about getting more and more consumers involved in our brand through social media to drive awareness. And, there's also from a sampling perspective. If we can get people to try our product—they come right in," adds Ennis, who admits the "Skinny" name draws consumers in.
While Amplify has no plans on making SkinnyPop an international brand, they do say that they've received a lot of interest.
"North America is our focus, but I suspect that people from other parts of the world will be eating SkinnyPop soon."
!function(d,s,id){var js,fjs=d.getElementsByTagName(s)[0],p=/^https:/.test(d.location)?'https':'http';if(!d.getElementById(id)){js=d.createElement(s);js.id=id;js.src=p+"://cdn1.findthebest.com/rx/widgets.js";fjs.parentNode.insertBefore(js,fjs);}}(document,"script","ftb-widgetjs");
View more information: https://www.foxbusiness.com/markets/no-ipo-pop-for-skinnypop-as-ceo-looks-to-chips
See more articles in category:
Finance