Here's Why SolarCity's Earnings Still Matter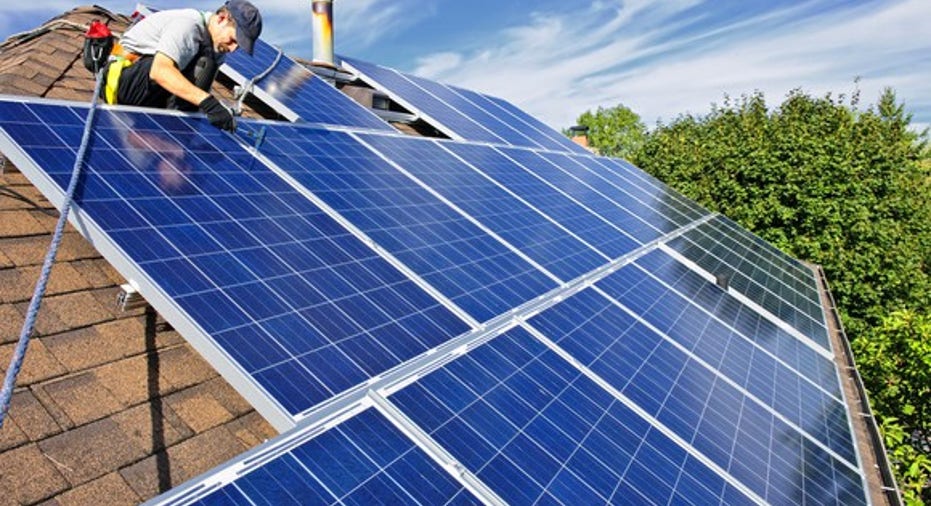 Image source: Getty Images.
SolarCity Corp(NASDAQ: SCTY) is set to announce its second-quarter earnings on August 9, and at this point, a lot of investors may be wondering: "What difference does it make?" After all, the company is set to be acquired byTesla Motors(NASDAQ: TSLA), in a deal that seems likely to get shareholder approval, essentially eliminating any upside for the stock price based on the company's business results.
But if you're a SolarCity shareholder who plans to hold your shares through the merger and become a long-term Tesla investor, then SolarCity's business results absolutely matter. Here's a closer look at what to expect, and a review of the details of the Tesla/SolarCity merger agreement.
Update on the merger
In late June, Tesla Motors made an offer to buy SolarCity in an all-stock transaction, for a price of 0.122 to 0.133 shares of Tesla stock for each share of SolarCity stock. Based on Tesla's share price in the days around the announcement, that worked out to about $26 to $29 per share of SolarCity. Needless to say, that's not a happy number for anyone who paid upwards of $40 per share as recently as January, but it was a decent premium to SolarCity's more recent share price.
At the same time, Tesla CEO Elon Musk, who is the largest shareholder and chairman of both companies (not to mention first cousin of Lyndon and Peter Rive, CEO and CTO of SolarCity), recused himself from board votes at both companies dealing with the potential deal. Musk, who owns more than 20% of the shares of each company, has also essentially removed his massive voting power from the mix. According to the definitive agreement, a majority of all non-Musk-owned shares must vote in favor of the merger for it to be approved.
In that same definitive agreement, the exchange ratio for the deal was finalized at 0.11 Tesla shares for each share of SolarCity, which would give SolarCity owners a 6.5% stake in Tesla, and it valued SolarCity shares at about $25.83, based on Tesla's share price in the days preceding the final agreement.The deal is expected to close before the end of the first quarter of 2017.
What to expect come Tuesday
SolarCity has already preannounced part of its quarterly results, announcing on August 1 that it had installed 201 MW of solar capacity in the quarter, well ahead of the 185 MW the company had forecast in its first-quarter earnings release. The company also reported strong bookings of new solar installations, which were 40% higher than the year-ago quarter. The release also teased two new products the company anticipates releasing in the second half of the year; an integrated solar/storage solution, and a product focused on new roof installations. The release said the company expects these new offerings would "meaningfully impact MW installed in 2017."
Unfortunately, SolarCity also had some bad news, reducing its guidance range for full-year installation by 100 MW, from 1,000-1,100 to 900-1,000, blaming lower residential booking growth than it had planned for. In addition to the lower guidance, the company said it would adjust its cost structure accordingly, which could potentially indicate its expenses — particularly sales and marketing related costs — would be high again when its full second-quarter earnings were announced.
Here's what matters
For long-term investors who intend to remain invested in the company when it becomes part of Tesla Motors, it's important to consider the value that it brings to the company. In short, the long-term thesis is likely to be all about cash flows.
Tesla, like any auto company, is likely to experience cyclical demand, seeing car sales impacted by general economic conditions. At the same time, the company must spend significant amounts of capital to develop and launch each new vehicle. SolarCity, on the other hand, should generate steady and consistent cash flows, since its revenue stream will operate much like that of a utility. Furthermore, also like a utility, those cash flows should be largely unaffected by economic conditions. After all, someone might put off buying a car for a year if finances are tight, but they'll pay the power bill.
And while it's still pretty early in SolarCity's scale-building efforts, and the company has its own big capital spending planned with a panel-manufacturing facility in the works, the company is on track to start generating positive cash flows as soon as the end of this year. That would go a long way toward helping stabilize Tesla's capital needs, at least over time. Considering the growth rate of the solar industry, it could happen sooner than we think, and that would be great for Tesla investors.
Sure, SolarCity's results might not really "matter" in moving its stock price after earnings come out — SolarCity's share price should move relatively closely to Tesla's going forward — but how the business performs absolutely matters for long-term investors in the combined company. For more, be sure to tune in after SolarCity reports on August 9.
A secret billion-dollar stock opportunity The world's biggest tech company forgot to show you something, but a few Wall Street analysts and the Fool didn't miss a beat: There's a small company that's powering their brand-new gadgets and the coming revolution in technology. And we think its stock price has nearly unlimited room to run for early in-the-know investors! To be one of them, just click here.
Jason Hall owns shares of SolarCity and Tesla Motors. Jason Hall has the following options: long January 2017 $30 calls on SolarCity. The Motley Fool owns shares of and recommends SolarCity and Tesla Motors. Try any of our Foolish newsletter services free for 30 days. We Fools may not all hold the same opinions, but we all believe that considering a diverse range of insights makes us better investors. The Motley Fool has a disclosure policy.

View more information: https://www.foxbusiness.com/markets/heres-why-solarcitys-earnings-still-matter
See more articles in category:
Finance