Chipotle Doesn't Have to Worry About the Whopperrito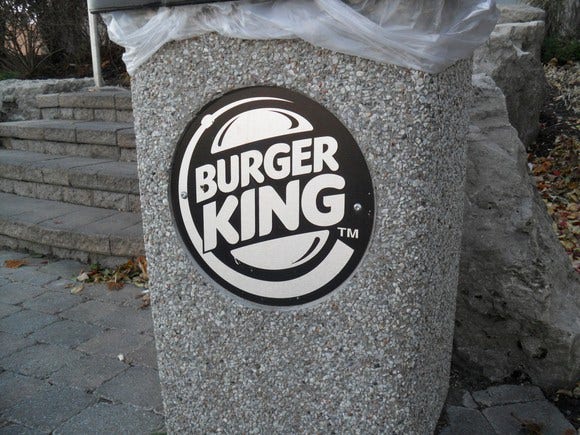 Image source: Flickr user Elvis Fool.
Chipotle Mexican Grill tried to trademark the "better burger" name earlier this year. It failed, but the move could've been interpreted as a warning shot to burger chains. Well, now at least one of the burger giants is firing back.
Burger King parentRestaurant Brands Internationalhas a franchisee that is reportedly testing out a Whopper-based burrito. It's called the Whopperrito, of course. It features a chopped up cheese-topped burger patty along with Whopper essentials lettuce, tomatoes, onions, and pickles that are all wrapped in a flour tortilla.
Food blog GrubGrade was the first to report that a Pennsylvania-based Burger King was promoting the concoction. It remains to be seen if this is a product initiated by Restaurant Brands International or the Frankenfood dream of a renegade franchisee. Either way, the Whopperrito is receiving plenty of attention these days. The high-calorie trial balloon is up in the air, and Restaurant Brands International may have no choice but to take it national if the Whopperrito stirs up enough curiosity.
Passing the crown
"It combines — prepare yourself — a Whopper and a burrito," Stephen Colbert told viewers of his late-night comedy show on Monday night. "It's great if you love both of those foods and hate yourself."
It's not the first time that a seemingly ridiculous food item has been mocked, only to thrive. Every late-night talk show host and even Saturday Night Live ripped into Taco Bell's Doritos Locos Tacos. Taco Bell went on to sell more than a billion of them through the first three years.
Burger King is also a chain that isn't afraid to take chances. There was last year's Halloween Whopper with the black steak sauce-infused buns that apparently produced green bowel movements. It followed up this year's grilled hot dogs rollout with a Whopper Dog, a frankfurter topped with Whopper veggies.
This also wouldn't be the chain's first foray into Chipotle's burrito stronghold. Burger King offers breakfast burritos — like many of its burger-flipping peers serving meals in the morning — and has offered tortilla-blanketed "snack wraps" before.
Restaurant Brands International is holding up well these days. Comps climbed 4.6% in constant currency for its latest quarter. That's a far cry from Chipotle and the jarring 29.7% decline in comps it posted during the same three months. This may seem to make Chipotle vulnerable. Someone that eats a burger-based burrito isn't going to spring for a traditional burrito the following day. However, BK's novelties have a funny way of coming and going. Heads turn, and before you know it they turn back and Burger King moves on to the next outrageous culinary amalgamation. Chipotle will stick to what it knows how to do well, and the Whopperrito will likely be gone soon even if goes go national.
The article Chipotle Doesn't Have to Worry About the Whopperrito originally appeared on Fool.com.
Rick Munarriz has no position in any stocks mentioned. The Motley Fool owns shares of and recommends Chipotle Mexican Grill. Try any of our Foolish newsletter services free for 30 days. We Fools may not all hold the same opinions, but we all believe that considering a diverse range of insights makes us better investors. The Motley Fool has a disclosure policy.
Copyright 1995 – 2016 The Motley Fool, LLC. All rights reserved. The Motley Fool has a disclosure policy.
View more information: https://www.foxbusiness.com/markets/chipotle-doesnt-have-to-worry-about-the-whopperrito
See more articles in category:
Finance