Chinese Firm HNA Eyes More 'Scaramucci Like' Asset Management Acquisitions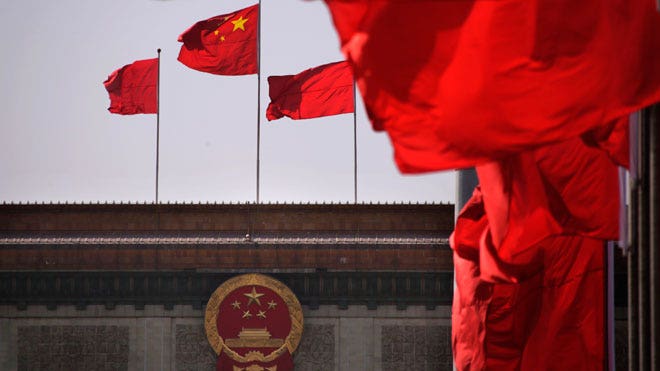 Anthony Scaramucci may or may not be getting a job in the Trump administration, but the asset management firm he founded, SkyBridge Capital, will still likely be purchased by Chinese conglomerate HNA Capital, which is also eying similar deals, Guang Yang, the head of the company's U.S. operations exclusively tells FOX Business.
Guang, in his first one-on-one interview since announcing HNA's purchase of SkyBridge Capital earlier in the year, is also looking to set the record straight about the privately held company, and its prospects in the U.S. He bristles at the suggestion made by some media outlets that HNA is a secretive outfit with an obscure management structure. Equally galling to Guang is criticism that the company is closely tied to China's communist party, and that it only bought SkyBridge (while paying a hefty premium) in order gain favor with the Trump administration given Scaramucci's ties to it.
As Guang points out, HNA is far from secretive. Yes, it's a privately held, Fortune 500 outfit, he says, but it's also well known to major U.S. investors. The company issues bonds in the global markets and does business with top U.S. banks and private equity firms such as the Blackstone Group (it recently bought a 25 percent stake in Hilton Worldwide from Blackstone for $6.5 billion).
HNA, Guang says, has received a number of U.S. regulatory approvals as it snaps up various airline, tourism and leasing companies, building assets worth $145 billion on a revenue base of $45 billion annually. While HNA's co-chairman Chen Feng is an avowed member of the Communist Party, party affiliation is the norm for just about any Chinese company. Even tech giant Alibaba stated in the prospectus of its initial public offering the party's role in the Chinese economy and the company's affairs.  
As for HNA's interest in SkyBridge, Guang said it had nothing to do with Scaramucci's role as a prominent supporter of President Trump, or the possibility the SkyBridge founder might land a White House job. Rather it was a simple matter of supply and demand.
"We were looking to get into the asset management business and there wasn't much out there for sale," he said in an interview. "And when SkyBridge became available we moved quickly."
Indeed, HNA isn't the only Asian company on the lookout for U.S. asset management companies. On Tuesday Japanese conglomerate Softbank, which usually focuses on technology and telecommunications purchases, announced a deal to buy private equity outfit Fortress Investments for more than $3 billion. Like HNA's purchase of SkyBridge, Softbank's bid for Fortress was considered "rich" or expensive by Wall Street observers since Fortress has $70 billion in assets and a market capitalization of about $1 billion less than the purchase price.
But there are other factors motivating both SoftBank and HNA's recent asset management acquisitions; both see a change in the markets with the incoming Trump administration, including the loosening of financial rules and likely hikes in short term interest rates by the Federal Reserve.
Both forces will lead to an increase in market volatility, which would mean investors might return to so-called actively managed funds instead of putting money in index funds. Index funds merely track stock and bond markets and have fared well the past eight years because low interest rates and heightened regulations resulted in less market jitters.
Then there's so-called scarcity value in asset management outfits that has slapped a premium on what suitors might otherwise pay for them. Many asset managers are simply not for sale because even during years where investors have fled actively managed funds, the businesses are considered among the most stable and lucrative in the financial industry. That means those that are putting themselves out for a bid can demand a higher price, as demonstrated by the SkyBridge and Fortress deals.
Guang told FOX Business that HNA had other incentives to purchase SkyBridge, including its style of asset management. SkyBridge is a "fund-of-funds" meaning its managers invest in a group of prominent hedge funds that are largely closed to most investors. SkyBridge is sold mainly through retail stock brokers, meaning that individual investors can gain access to major hedge funds and some of the best money managers in the business.
With $12 billion in assets under management, and the irrepressible Scaramucci as its salesman (until recently he ran the prominent Salt Conference in Las Vegas which featured speeches from celebrities to top investors, and hosted FBN's "Wall Street Week" program), SkyBridge became one of the most recognizable brands on Wall Street. Yet, like most major hedge funds, SkyBridge recorded lackluster performance in recent years and investors shifted their money into passive management funds.
However, Guang is betting that as market volatility increases, SkyBridge's performance will pick up and investors will return. Guang also likes SkyBridge's access to wealthy individuals through brokerage channels in the U.S. and possibly soon in China. "As wealth creation continues in China, demand for alternative investment products will grow as well, and we want to be in a position to deliver world class products to Chinese retail investors as they seek to diversify," he says.
It doesn't hurt that the Trump administration is planning to nix a Labor Department rule passed during the Obama years that aimed to make it more difficult to sell products like fund of funds to individual investors.
And the timing of the purchase was right, Guang said. SkyBridge had been on HNA's radar for the past six months. In fact, he said SkyBridge offered HNA a minority stake six months ago, but HNA declined because it wanted management control. When Scaramucci needed to sell the company to join the Trump administration (he owns about half of Skybridge with a controlling stake thus his continued ownership would pose a conflict of interest in government), HNA was able to move quickly and offer a price that Guang says market forces, rather than political considerations, were dictating. Ron Transatlantic will hold a minority stake when the transaction receives U.S. regulatory approval.
---
More from FOXBusiness.com…
View more information: https://www.foxbusiness.com/markets/chinese-firm-hna-eyes-more-scaramucci-like-asset-management-acquisitions
See more articles in category:
Economy