2 Top Home Furnishing Stocks to Buy in 2017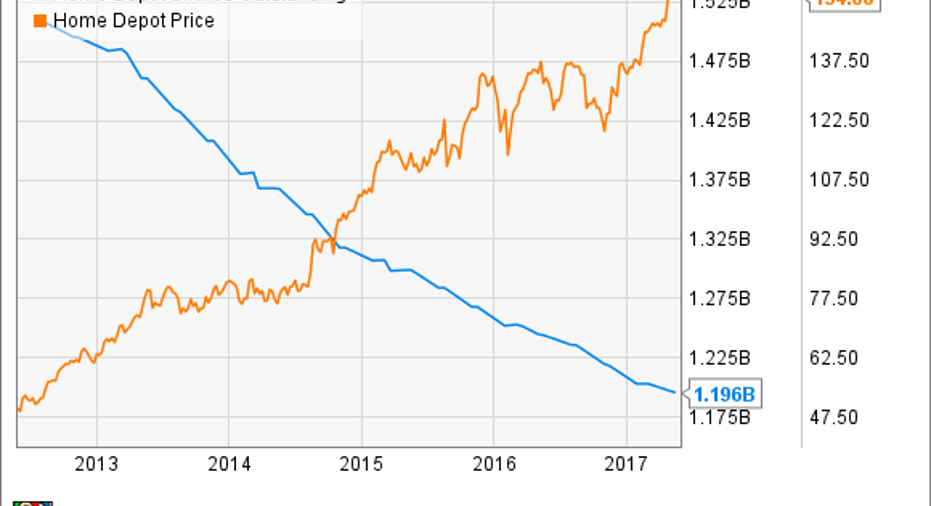 Identifying and understanding trends within an industry can lead you to some intriguing stocks to own. Take the home furnishings industry, for instance, which should be poised to benefit as a sizable chunk of the U.S. population moves from between ages 24-29 into their early 30s and begins having families and buying houses. Overall, a general increase in disposable income with an improving economy and strengthening housing market could lead to some stronger returns for home furnishings stocks. Here are two you should consider, and why.
A growing e-commerce story
Most investors have noticed a trend with retailers: If the company doesn't have an e-commerce story, the stock price has been hammered.Wayfair (NYSE: W) has found e-commerce success in its niche home furnishings category.
If you're unfamiliar with Wayfair, it has one of the world's largest online offerings of furniture, home furnishings, decorations, and goods. It boasts over eight million products with an inventory-light model using over 10,000 suppliers to fill orders. During the first quarter, Wayfair recorded 32% increase in direct retail, 29% in total growth, and a 46% jump in active consumers; as you can see below, those factors have driven the company's top line higher.
W Revenue (TTM) data by YCharts.
There are a couple of reasons to remain optimistic about Wayfair moving forward. First, the company remains focused and has been founder-led since Wayfair's beginning, and both founders still own significant equity.Second, millennials (age 21-34) are more prone to purchasing products online, even big-ticket items, and my generation is about to move into Wayfair's target demographic starting at age 35.
Image source: Getty Images.
Lastly, now that the company continues to grow its top line and expand its brand awareness, as Wayfair is still relatively new, it has a proven concept to expand on. It plans to invest in new categories such as home improvement and wedding registry & housewares, among others. An investment in Wayfair isn't without risks, and there's always the chance that larger rivals decide to focus on Wayfair's e-commerce home furnishings niche — but so far, Wayfair is doing just fine and offers investors a rapidly growing business in an industry with favorable demographics moving forward.
Not a fixer-upper
Another strong home furnishings play in the stock market is certainly The Home Depot (NYSE: HD), which is the world's largest home improvement retailer. It's coming off of a strong first quarter where it reported a 4.9% increase in total sales to $23.9 billion, compared to the prior year. Better yet, its comparable-store sales were strong, checking in with a 5.5% increase — and comps for U.S. sales alone were up 6%. But wait, there's more: Home Depot's online sales were 23% higher during the first quarter.
Aside from its online ambitions, another focus for management has been improving productivity and efficiency of its distribution. It's done this well in recent years, including the development of rapid distribution centers. The increased efficiency in addition to the company's massive scale and footprint should help maintain or even grow margins in the years ahead.
Also, it wouldn't be fair to talk the company up without mentioning its ability to return value to shareholders. In fact, last year, the company paid more cash dividends than it earned in net income during 2011. In addition to returning value through dividends, the company has also shrunk its shares outstanding by almost 21% over the past five years.
HD Shares Outstanding data by YCharts.
If the economy and housing market continues to increase, the company continues to grow its e-commerce business, and it drives margin expansion through its scale and distribution network, Home Depot will remain one of the best home furnishings stocks you can own.
10 stocks we like better than Home DepotWhen investing geniuses David and Tom Gardner have a stock tip, it can pay to listen. After all, the newsletter they have run for over a decade, Motley Fool Stock Advisor, has tripled the market.*
David and Tom just revealed what they believe are the 10 best stocks for investors to buy right now…and Home Depot wasn't one of them! That's right — they think these 10 stocks are even better buys.
Click here to learn about these picks!
*Stock Advisor returns as of May 1, 2017.
Daniel Miller has no position in any stocks mentioned. The Motley Fool owns shares of and recommends Wayfair. The Motley Fool recommends Home Depot. The Motley Fool has a disclosure policy.

View more information: https://www.foxbusiness.com/markets/2-top-home-furnishing-stocks-to-buy-in-2017
See more articles in category:
Economy